Arow's Insights
Accessorizing for Staging

What makes a house a home is the collection of memories and things that are gathered throughout the years and are of the upmost significance to the homeowner and their families.
When staging a house, one of the key elements worked on is to downplay personal items so the house can become appealing to a broader number of potential buyers.
Accessories play a very important part in staging, bringing elements that are visually interesting, without making too bold of a statement that can interfere with a prospective buyer's vision of their future home.
When choosing accessories to stage a space, balance is a key component to make a room feel welcoming. The design can come together using wall art, rugs, accent pillows, throws, faux greenery, and tabletop arrangements.
A color scheme can help define the flow of the house making the whole design cohesive. Choosing larger items first can help you define the palate that will be used.
Smaller accessories can be grouped varying in heights, colors, and shapes, making sure you keep the room feeling neutral and uncluttered, using a pop of color that complements your theme.
Bookshelves should be kept decluttered (remove family photos, anything with your name on it) so potential buyers can appreciate the architectural details and the volume of the shelves. Remember, less is more.
Accessories can make a room photograph well.   In today's market, where potential buyers first glimpse of the house will probably be through the web or an app, making sure the photographs can capture the design elements chosen to accent the space, can make a difference when the potential buyer chooses to visit the property.
Here at UTW Home Staging we have an amazing collection of accessories to help your property shine, making sure that balance and style coordinate to bring the best out of your staged home to increase your profit.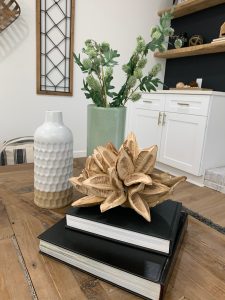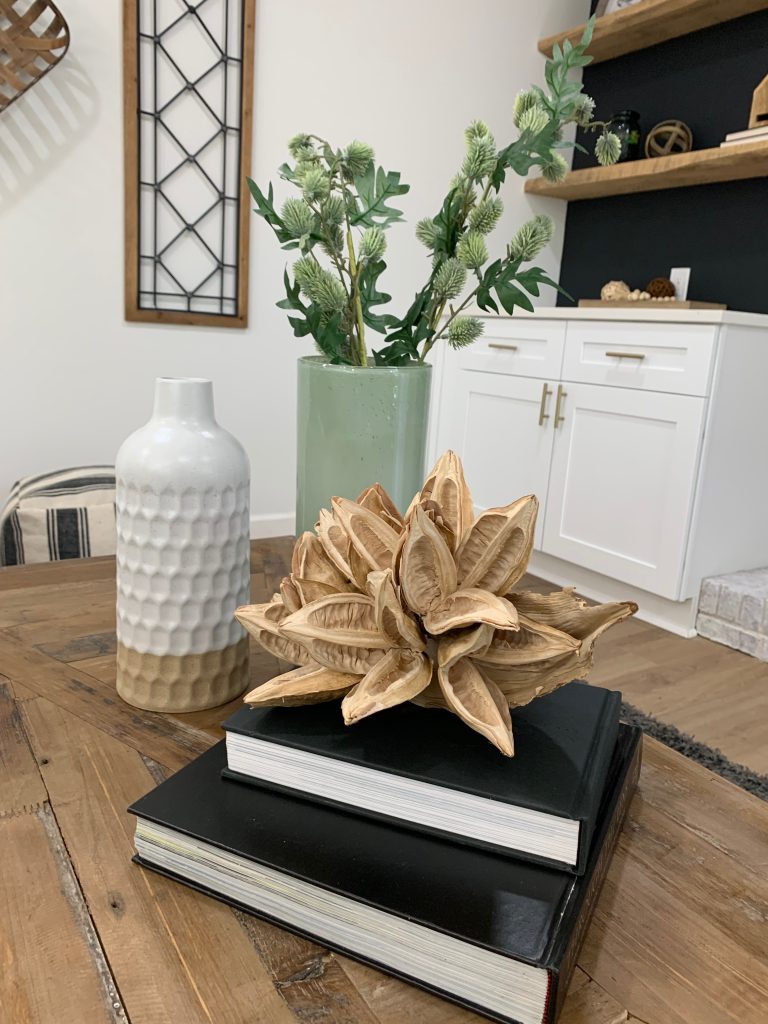 Decluttering – Staging for living
Sometimes we think of decluttering as a one-time event that will swipe our home from all the mess and free our lives from chaos. But decluttering is an ongoing process and should be tackled as part of our routine.
When we stage a house, we also go to the process of decluttering, making the space efficient and aesthetically pleasing to help a prospect buyer visualize the space as their own.
There is a place in between staging and decluttering that we could find balance and have a space that can be personal and efficient for optimal living.
Here are some tips for you to create some habits that will help you in this process:
Don't treat your home like a storage unit – don't keep something just because you might need it someday is like paying mortgage to a storage company- and it come at the expense of living in an empty, breathable space. So, think twice about hanging on to curtain rods or old cell phones.
Ask yourself if it's "the best, the favorite, or necessary". This decluttering mantra coined by Emily Ley helps you narrow down your possessions to the cream of the crop. If you're looking at an overly large collection of mixing bowls, for instance, narrow it down to the best ones. A kitchen towel collection can similarly be whittled down by choosing to keep only favorites.
Declutter by area – Looking at one freshly cleaned-out space might inspire you to declutter the rest of your home, too. So keep the momentum going by decluttering deeply in small areas, instead of decluttering a little at a time all across your home – because at the end of the latter, you have a full bag of donations, but no specific peacefully-decluttered space to point to. For instance, you could decide to declutter – all the way – the junk drawer or a particular cabinet in the kitchen.
Don't buy containers or organizers until you purge – Buying baskets and bins and dividers is my favorite part too, but if you have these around before you declutter, you risk organizing stuff you don't need and that's risky. Purge before you splurge and then get exactly and only what you need to organize what's left.
Keep these tips in mind and have fun! In the end all your hard work will be rewarded with a clutter free home!
Source: https://www.apartmenttherapy.com/decluttering-tips-36704986
2022 Staging & Redesign Trends
Today's buyers are looking for a more "styled" approach when they are shopping for a house. This could mean styling the living room area with a cozy reading nook, or even creating a workout room or meditation space out of a spare bedroom or basement.
A considerable move for next year is to incorporate the color green in your projects. The four major paint companies all announced this hue as their colors of the year. If you add a few green accents, you may have a better chance of appealing to a buyer who's looking for a calmer, more earthy feel at home.
According to the Houzz report, searches for "green cabinets" increased by 829% over the past year, followed closely by "green tile bathroom" (up 771%) and "green accent chair" (up 754%).
Finally, these are also important trends forecasted for 2022:
Embrace the curves;
Sooth spaces by using elements of nature;
Use more color and texture combinations;
Create multifunctional spaces.
Curb Appeal
When you are listing your house for sale, curb appeal is the first impression for the potential buyers, so it needs to be striking.  There are a few things to remember – the main thing is you need to be able to see the house from the road.  "If they can't see it, you won't sell it."  Trimming bushes and trees is essential for good curb appeal.  "Raise the trees" – trim low lying branches so you can see the house from the curb. "Lower the bushes" – keep the bushes in good shape, trim new growth off.  Keep the grass cut.  If there are any brown or dead trees or bushes, they need to be removed. If you can keep up with these few things, you will draw those potential buyers onto your property and they will want to go inside to see the rest of the house.
Furniture Placement
There are a few things to understand when placing your furniture. It may be hard to believe but you do not have to put your sofa on a wall. You can put it in an open area which is called "floating furniture".  With the open floorplans we have today, you will need to float your furniture because there aren't many walls.  You want to – create conversation space for seating that isn't too far apart; make sure the sofa and chairs front feet are on the rug; all seating has access to a table; hang artwork 4" – 6' above the piece of furniture it is over; keep good traffic flow from room to room, to name a few things.
Staging Increases
In my last blog, I talked about the increase of international transportation expenses, of all goods.  This affects all aspects of our lives.  Builders and contractors have experienced high costs of materials – from  lumber to nails.  Stagers have experienced the increase as well.  Buying furniture and  home goods can be tricky.  The costs has doubled in most every case and then there is the availability issue.  The wholesale resource still offers that sofa, for example, but not only it is double the cost but it won't be available for 8 months.  This makes it difficult for a stager to resupply their inventory but the biggest issue is it makes it impossible to keep our rental prices the same.  How can WE obsorb the extreme increase of those expenses?  Do we pass them along to our client?
Why Prices have Increased in all Industries
I have heard people complain aboutt the increase in furniture costs, as well as the avaliablity of furniture.  There are several factors involved with this.  Before the pandemic, the cost to ship a container from the Asian countries to the US, port to port, was around $4000.  This does not include the domestic transportation from the port to the delivery destination.  This also does not include any custom costs.  In 2021, a conatiner filled with the same products, taking the same route is around $15,000.  This does not include custom costs terrifs or domestic transportation. These higher transportation expenses have to be covered by someone and the manufactorer, wholesaler or dealer will most likely not obsorb them.
Under the Willow provides many services for staging for living, including assisting you with storage solutions!
There is a place for everything. People often look for extra storage in houses for this reason. Organization can be intimidating.  This is a way to feel in control and to declutter an already busy and cluttered life. We want your house to be clutter free for the next time you stage your home, or another home! As much as we love to make guests feel at home, there is nothing like a clear and clean home to stage without little belongings everywhere.
There are many options available for storage and organization in every room. We will be reviewing the living room and kitchen storage ideas! 
The living room has shelving around the television to allow for more storage, storage ottomans or coffee tables, storage in the entertainment centers, and floating shelves anywhere you want to install them (just make sure shelves complete the look and don't complicate it.)
The kitchen may seem like it does not have much storage, but there are simple solutions. Use kitchen carts, drawer dividers, and pot racks for above the kitchen sink or oven. Take advantage of any extra shelving in the pantry with racks and bins for organization and storage! We love drawers, shelves, and bins of course!
In every space, dividers, drawers, shelves, and other equipment that can be utilized better. For things that you don't use every day, find some decorative baskets or containers that will make them look nice or clean, but don't ruin the mood and look of the room. Storing things out of their boxes or original packaging is usually much better for optimal storage.
Posted by Christiane Northrup, M. (2018, August 07). 7 tips to organize your home using the KonMari Method. Retrieved March 08, 2021, from https://www.drnorthrup.com/7-tips-to-organize-your-home-using-the-konmari-method/
Light Sources in Home Staging
The topic of light sources in home staging has come up a lot recently. Newer lighting equipment will greatly change the way your house is displayed to potential buyers. Outdated light fixtures can drag down the look of the whole house.  Adding light source from task fixtures such as table lamps, floor lamps, and sconces make it easier to show more light on a desired area. Look for both functionality and appearance of light fixtures when purchasing. 
There are many different options for both special feature lighting, and smart lighting. Special feature lighting fixtures are available in all varieties to match the décor and ambiance of your home. Some lighting fixtures have controls for dimming and color options. These are excellent choices specifically with staging in mind because of the flexibility it adds to the space. Smart lighting consists of LED structures or single lights that can connect to a phone or device to activate on a schedule. Smart lights can be controlled from your phone in hand. This is a wonderful option if you have the budget for it because of the convenience factor. In addition, the buyer wants the house to be as "Move-in Ready" as possible. There is a lot of competition out there and you want your house to be at the top of the list.
Under The Willow Home Staging can assist you with lighting selections and guide you down the right path.
Artwork
Artwork is one of my most favorite furnishings. It is an expression of yourself. The options are endless. Artwork can show your creative side, your fun size, your serious side or your colorful size. It can be educational, it can speak to you, it can have a meaning, it cannot make much sense at all, it can be utilitarian, it can be beautiful or just make you happy. Artwork comes in all sorts of sizes and types – stretched canvas, framed, framed with glass, there is mixed media, oil, acrylic, watercolor, chalk, pencil sketching and more. This is why I go crazy over artwork. There are so many ways to express yourself.
Hanging Artwork
So many people have trouble hanging artwork. Most hang them too high, as if they were Shaq. There are guidelines/recommendations on how and where to hang. You want the center of the piece to hang at about 5'6". When you hang over a piece of furniture (sofa, bed, dresser, server) the bottom of the art should be about 6" above the top of the piece of furniture. For example, if the headboard is 48" high, the bottom of the art should hang no lower than 54". You want your art to accompany the furniture it is hanging over. The furniture creates a foundation for the art. So, they need to be close together. Another recommendation is that the top of your art should not be at the same height as something it is hanging beside, for example, the top of a door or window casing. If they are at the same height, it stops your eye at that height and chops off the ceiling height. You want to create different heights of things to give the illusion of a loftier space. Hopefully this will help get that art out of the sky and down where it belongs, where you can see it and enjoy it.
Do's and Don'ts of Staging Your Home to Sell
Whether you're looking to downsize or you're moving to a small town to get away from the chaotic city life, you're about to embark on the exciting journey of selling your home. There's many steps in the home selling process — from having your home inspected to making repairs — and each is crucial to ensure a quick and successful sale. But before your home is ready to hit the market, one of the final steps is to have your home staged and photographed.
With new homes being added to the housing market every day, it's important that your home stands out and makes a great impression on potential buyers. This is where staging your home can make all the difference. And while it may seem as simple as adding a few new pieces of decor, there's much more to it than that. That's why we talked with professional home stagers for their expertise and insight. Here are their top do's and don'ts when it comes to staging your home to sell.
Do: Make updates before listing your home
One of the best things I can share with homeowners is that their home should really feel like the price point that it is. So you should invest in making some updates before you list or even before showing it to your realtor. I commonly suggest repainting the home's interior with a trending neutral color and replacing out-of-style light fixtures. Neither of these changes will break the bank and both will create demand from buyers who want a contemporary, move-in ready home that fits their ideal lifestyle. – Les Is More Home Staging
Don't: Staging your home to sell with outdated furniture
Using old or worn down furniture can make the property feel out of style and can quickly turn off potential buyers. Hiring a good stager will ensure optimal furniture placement and flow throughout the home while making the home aesthetically appealing to anyone who walks through the door. – Fruitful Home Staging
Do: Use soft white lighting
Use "soft white" light bulbs with a Kelvin rating of 2,700-3,000. This color temperature provides a warm light without distorting the color captured in your all-important marketing photos. – Successful Staging 
Don't: Cover windows
Keep all windows free and clear of window treatments of any kind. Windows should be completely exposed to let in the maximum natural light and to make each room appear as large as possible. This leads to better photos to entice the buyer and also better viewings. A curtain panel at the outside of each window can be nice and add to the softness and elegance of the room, but be sure to either remove or completely lift up all blinds. – Heart & Home Staging and Restyling 
Don't: Display personal items
I always recommend home sellers to stay away from four things when staging their home – religion, politics, alcohol, and collegiate preferences – especially here in the south. We don't want to offend anyone and this will help make the home more appealing to a wide range of buyers. – Under the Willow Home Staging
Do: Get professional photos taken
You only get one chance to impress your potential buyers and it all begins with high quality photographs. Getting the best quality photos you can afford is more important than ever to ensure top dollar in the least amount of time on the market. It's our one chance to highlight the home's best features and to tell our story through our staging. It leaves an impression and peaks the interest of potential buyers enough to make them want to view the property in person. – Decorate to Show
Originally published by Redfin
Rugs!
Anyone love rugs as much as I do?
Rugs are very versatile. Under a dining room table and chairs, they soften all the wood; in a large open floor plan, they help define the space; under a bed, they provide  something soft to walk on during the middle of the night. Rugs can be very colorful, they can be muted with their design, they can be geometric and fun, they can also be traditional in style with a boarder and formal patterns! Rugs can have a short nap or a high nap; they can be made of wool, nylon or cotton. While there are standard sizes, rugs come in many custom sizes for all shapes and dimensions of rooms. If this has gotten you curious about new rugs, call UTW. We can assist you with finding just the right shape, size, pattern and color for you!
How To Place Rugs
When you have a rug, you want to make sure it is placed properly in your space. In a dining room, you want to center the rug under the chandelier (in both directions) then center the table on the rug. You always want the rug to be big enough to where the chairs are on the rug when someone is sitting in the chair. In a living room, you want to center the rug with the sofa (always with the front feet of the sofa on the rug). In this conversation area, all the chairs or the loveseat should be touching the rug (at least the front feet on the rug). This creates a conversation area and defines the space!
COVID-19 has reeked havoc on the world as a whole. The real estate industry has not been spared. Everyone has been learning how to work from home, home school your kids when you are not a teacher and figure out how to keep your family safe and sane all at the same time.
These are strange and difficult times for sure. While we are all experiencing this, those of us in the real estate industry are trying to figure out if we should stage or show houses. UTW has decided to stage. The CDC guidelines listed real estate and real estate services as an essential business. So UTW is up and running.
If you and your family want or need to list your house, give us a call! We will be happy to stage it for you. Keep safe everyone!
Last year we had a lot of ups and downs as a team; more downs than we like to admit but that's part of the job. As we move forward with 2020, we will have lots to look back on and learn from. This blog will be a place for updating you on our monthly activities as well as staging tips and projects we have been working on. During this year, there are many "goals" we hope to achieve so here are some of those for you to think about too….
NEW YEARS RESOLUTIONS
Community Outreach
Team Bonding
Move to a bigger warehouse
Build the business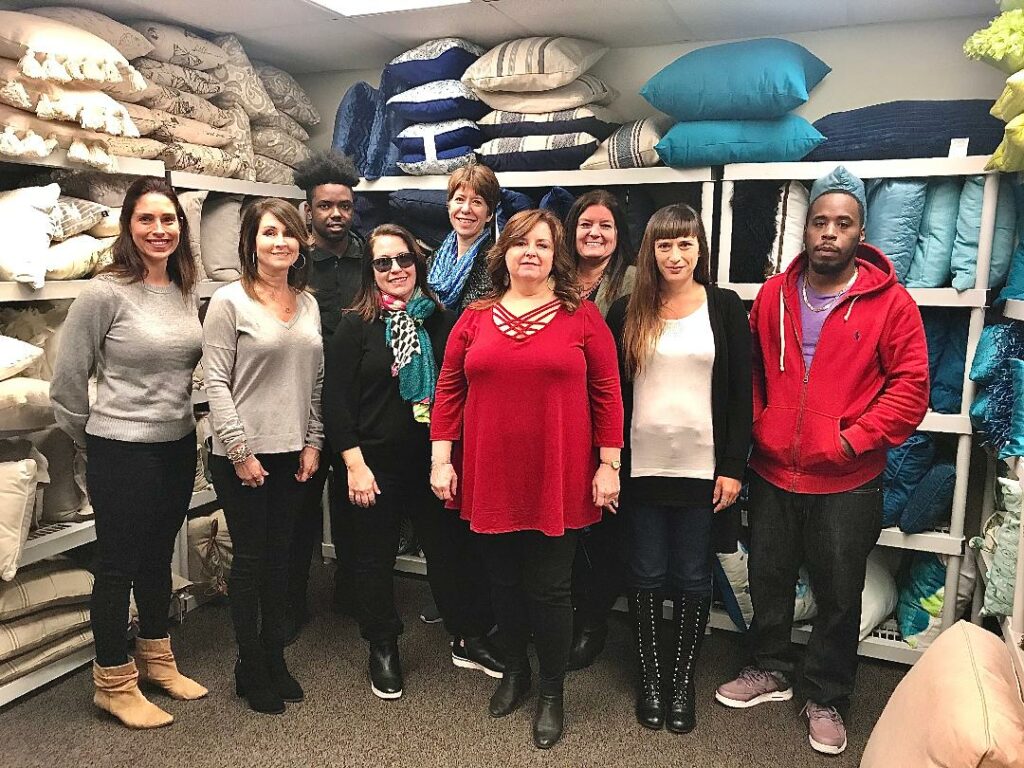 With everything we had to go through together last year, we came out with new team members, new ideas and new furniture! We hope you will follow us in our journey and enjoy our blog.
HAPPY NEW YEAR EVERYONE!